Star Trek (FASA)
Star Trek Character Sheet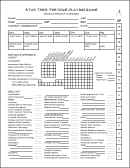 I probably shouldn't even release these sheets, since they're so boring. However, people have actually emailed me asking for sheets for the old FASA game, so here you go...aren't you sorry you asked? Hey, even I had to start somewhere.
They're bare-bones, including only the skills and stats which I needed to run a Trek game back in college. There is, at least, one sheet each for Federation, Klingon and Romulan characters.
Who knows, maybe one of these days I'll make a spruced-up version...but I doubt it.
Note: This sheet is for the old Star Trek RPG by FASA. If you're looking for materials for the new Star Trek RPGs by LUG, follow the Star Trek (LUG) and Star Trek: The Next Generation links.